How to recruit top talent and negotiate salaries - THE LAUNCH #4

TandemLaunch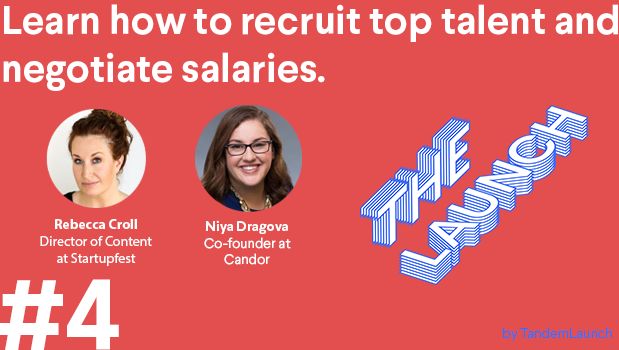 Get paid more. That is the mission of Candor!
If you want to learn the INSIDE SCOOP on recruiting top talent and negotiating salaries then you best be tuning in to hear.

This week's episode of THE LAUNCH features Niya D. co-founder of Candor. Equitable salaries with a focus on diversity groups is her jam.

To add the cherry on this cake, we are co-hosting again with Rebecca Croll from Startupfest.
---
Guests
Rebecca Croll
Director of Content, Startupfest
Rebecca is a conference organizer, content expert, and actor. When not working to put people on some of the world's most prominent technology stages, she takes the stage herself in theatre, film and television. With a decade of experience organizing conferences on innovation, entrepreneurship, and digital government, she is an advocate for inclusion and diversity both onstage and off.
Niya Dragova
CEO at Candor
Niya is the co-founder of Candor. She is an expert in tech compensation, a growth advisor to multiple YC startups, and writes a viral newsletter on the job market in Silicon Valley (read by leaders at Facebook, Amazon, Sequoia, Goldman Sachs, etc.). Before founding Candor, she led quantitative sales strategy at the top private bank in the US.
.